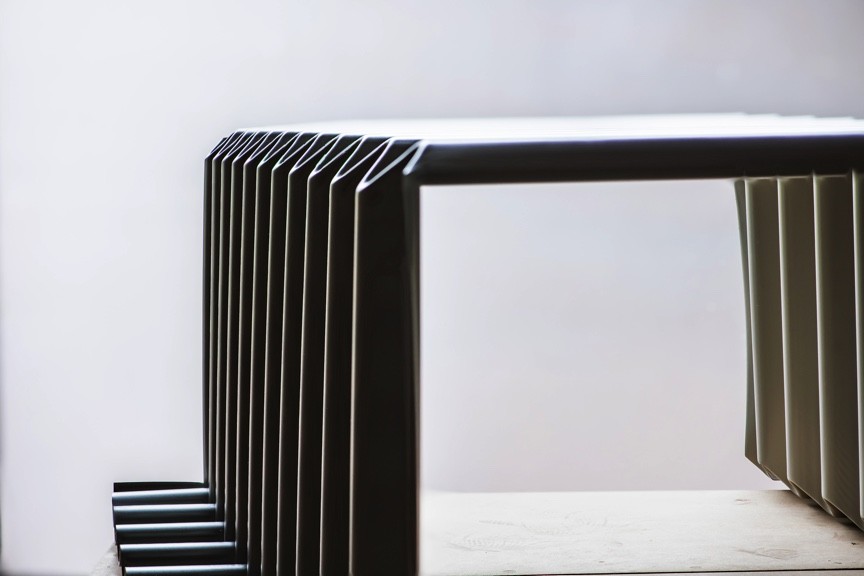 The mother of all benders
A privilege of this role is that we at the Advanced Manufacturing Growth Centre (AMGC) get to see Australian ideas of all kinds evolve into high-value products and jobs.
It might be time to add another entry to our list of breakthroughs. FormFlow is commercialising a world-first technology, allowing corrugated steel to be cold bent, without damaging the coating or the structure of the metal. It is able to make damage-free 90-degree bends in Colorbond, Zincalume and galvanised sheets. Its R&D program involves other angles and materials.
Their concept borrows from origami (like the AMGC logo if I may add…). Instead of paper, they're working on the "inextensional" folding of steel sheet, so it won't be damaged in the process.
Why should this matter? For the first time ever, corrugated sheets can be used in a roof, wall or elsewhere with the possibility of a perfect seal. Besides looking damn good, it would guarantee that embers, water, air or possums are kept out of a roof. And there is no need for additional capping or flashing.
This opens up entirely new avenues for builders and architects looking for a superior function and look in their next project. There's a significant market attached to metal roofing and guttering. In Australia alone the category is worth a billion dollars.
FormFlow is refining their concept in collaboration with Deakin University and Austeng. FormFlow Co-founder Matt Dingle knows the importance of linking with the right researchers. He is co-founder of another Geelong-based innovator, Carbon Revolution, which has deep R&D links with Deakin. Carbon Rev is a pioneer in one-piece carbon fibre wheels, counts Ferrari and Ford as its clients, and announced a $100 million plant expansion last September.
AMGC has supported the acceleration of FormFlow's progress to market, backing a project for prototyping and testing, and exploring strategic partnerships for technology licensing. Naturally we can't say who they are, but there are some big names very interested in what FormFlow can do. Expect to hear news on this soon.
Any drive through the regions or suburbs tells you the material is already a popular choice for homes and sheds. Who knows how many jobs might be created in Geelong when builders and architects cotton on to a new roofing option, one with superior insulation and safety properties? Collaboration can lead to lots of things, including success through a new fold on an old favourite.
Wanna hear more? Then come and see Matt and other leading manufacturers on stage at National Manufacturing Week in Melbourne, starting Tuesday 14 May at 11:15am.