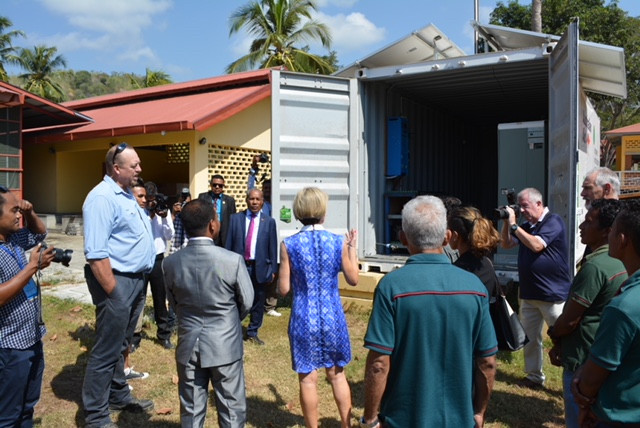 Thirsty?
How many glasses of water have you drunk today? I wouldn't know, either. Clean drinking water is so commonplace for most in Australia that we barely notice its availability.
Sadly, this is not the case for a great chunk of the world's population. According to UNICEF, over 2 billion people don't have safe, readily available drinking water at home.
Providing potable water to the world is a non-trivial problem. In fact, it's recognised as one of the 14 Grand Challenges for Engineering.
An early project at AMGC was led by Water Source, a company incubated and then spun out of the Adidem Group. They had a promising but incomplete system for a maintenance-free water treatment system. Combining ozonation and barrier methods, it should be able to produce 4,000 litres a day running at 20 to 30 per cent capacity, only use 24 volts, and require no consumables for more than five years: an important factor if it's deployed to a remote area where maintenance visits would be troublesome and expensive.
The machine is "predictive rather than reactive" – thanks to the blessings of the Internet of Things. Put one of these units anywhere in the world and their performance can be tracked and tweaked by technicians back at home base.
To get everything working properly and ready for manufacture, Water Source collaborated with RMIT, who helped optimise the ozone injection, and Bosch Engineering, which lent its AI and cloud communications wizardry to the system. We thought it was a great idea, so we contributed $250,000 in co-funding (matched by Water Source) to support its development.
A year later and I'm pleased to tell you that work on the units is complete, and they have performed so well in trials that orders are flowing in. The company has started to increase its workforce with an initial three hires, one of whom is an ex-automotive employee.
Water Source's innovative devices are out in the field in Timor-Leste, providing clean water to parts of the country that badly need this service. In the past few days, Minister for Foreign Affairs, The Hon Julie Bishop MP, paid a visit to Timor-Leste and on that occasion inspected the Water Source units.
When thinking of all the remote locations out there, you realise the potential for these Australian-made, high-reliability hydration machines. Defence sites, drought-stricken towns and other situations which require water to be trucked in. We like to hope that this newly-commercialised product will help out in the future.
For now, let's raise our glasses to this innovative Australian manufacturer using advanced technologies to take on one of the world's great challenges.