PacRim Stainless 2022
20 - 21 July 2022
Hotel X Brisbane - 458 Brunswick St, Fortitude Valley QLD 4006
Trends in Additive Manufacturing for Manufacturers - Joondalup
5 July 2022
Building 27, Edith Cowan University, 270 Joondalup Dr, Joondalup WA 6027
CyberCon Connect 2022
21 June 2022
Hyatt Regency Sydney, Darling Harbour - 161 Sussex St, Sydney NSW 2000
Nuclear Skills Forum
7 June 2022
ICC Sydney - 14 Darling Drive Sydney, NSW 2000
Accelerate Manufacturing: Western Downs Manufacturing Conference 2022
25 May 2022
Dalby Events Centre - 54 Nicholson St, Dalby QLD 4405
The Path to Advanced Manufacturing - Murray Bridge
6 May 2022
Bridgeport Hotel, Charles Sturt room - 2 Bridge St, Murray Bridge SA 5253
How to Build a Resilient Company - Darwin
28 April 2022
101/12 Salonika Street, Parap NT 0820
Territory Women in Manufacturing - Darwin
30 March 2022
The Oche Suite at the North Australian Development Office (NADO) - 76 Esplanade, Darwin City NT 0800
Australian Manufacturing Week 2022
7 - 10 June 2022
International Convention Centre, 14 Darling Dr, Sydney, NSW 2000


14 - 15 September 2022
Meet the Territory 2022 – Darwin
AMGC is proud to present, our inaugural two-day 'Meet the Territory' event
About this Event
The Northern Territory (NT) is fast becoming Australian's manufacturing export gateway to Asia and beyond. Join AMGC to learn how you can unlock opportunities that are happening right now in the NT.
The NT government has invested $8.75 million over a five year deal in partnership with AMGC which will fast-track innovation projects and generate millions of dollars in co-investment. This will be achieved through the appointment of a dedicated NT director, Charmaine Phillips to drive industry engagement and foster collaboration and the creation of the Advanced Manufacturing Ecosystem (AME) Fund of $7.5 million.
Over the two-day event, you will learn about how to access AME Fund of $7.5 million, meet with potential collaboration partners, understand the Territory Economic Reconstruction Commission report and the key manufacturing areas of priority in the NT, engage in a speed networking session with NT manufacturers, listen and learn from industry and expert leaders, participate in a 'key highlights' bus tour of Darwin, which includes various site visits of local manufacturing businesses.
AMGC has secured accommodation at H on Smith for interstate manufacturing attendees at a special discount rate.
Check in: Tuesday 13 September
Check out: Thursday 15 September
Room: Superior King including breakfast
Cost: $454
AMGC invites you to join us on Sail Darwin – Champagne Sunset and Canape's Sail at a special discount rate.
Date: Wednesday 14 September
Time: 5 pm – 8 pm
Cost: $130.50
If you are interested in accommodation and/or Sail Darwin cruise, please contact [email protected] to secure a spot!
Day 1 - Wednesday 14 September 8:00am - 4:30pm
8 am – Registrations, welcome tea and coffee
8:30 am – Welcome
8:40 am – Jason Schoolmeester, NT Major Projects Commissioner
9 am – Charmaine Phillips, Territory Director and Michael Sharpe, National Director Industry, AMGC
9:40 am – Simon Hardy, Corporate Affairs Manager, Amphibian Aerospace Industries
10:10 am – Morning tea break
10:30 am –  Daniel McCormick, General Manager, ICN NT
10:40 am –  Michael Prentice, Lead Growth Facilitator, Entrepreneurs Program, Darwin Innovation Hub
10:50 am – Gareth Benson, CEO, IP Assist
11 am –  Aaron McMahon, Defence Industry Advisor, Office of Defence Industry Support (ODIS)
11:10 am – Dr Rob Acres, Commercial Technical Consultant, ANSTO
11:40 am – Paul Schneider, Land Development Corp
12:00 pm – Charlie Ill, Local Jobs Fund
12:10 pm – Steve Rodgers, Pro Vice-Chancellor Research & Innovation, CDU
12:20 pm – Hamish Campbell, Director – North Australia Centre for Autonomous Systems, Industry 4.0 Test Lab
12:30 pm – Nathan Fanning, Director Industry Strategy, Circular Economy Strategy
12:40 pm – James Bear, Senior Director, Defence Industry
1 pm – Lunch break
1:30 pm – Break out sessions & networking 
4:00 pm – Event closes
5:00 pm –  Dinner at Sail Darwin – Champagne Sunset and Canape's Sail ($130pp, please contact [email protected], if you would like to join us)
Day 2 - Thursday 15 September 8:00am - 4:00pm (Bus tour)
8 am – Meet at AMGC headquarters
9:00 am – Tour of the Port Darwin, Darwin Port Corporation
10:30 am – Morning tea break provided on bus
11 am – Tour of Microgrid site
12:00 pm – Wilkinson's Engineering site visit
12:45 pm – Lunch Break
1:45 pm – CDU: Advanced Manufacturing Alliance site visit
2:15 pm – CDU: Menzies School of Health Research site visit
2:45 pm – Tour of Darwin Airport
4 pm – Drop off back to AMGC headquarters
Join AMGC to learn about what the NT has to offer to you and build a stronger network that could potentially lead to successful collaborations.
Location: Day 1 The Atrium on The Avenue – 12 Salonika St, Parap NT 0820,
Day 2 Development House, 76 The Esplanade, Darwin NT 0800
Time: Day 1 & Day 2 8 am – 4 pm
More Information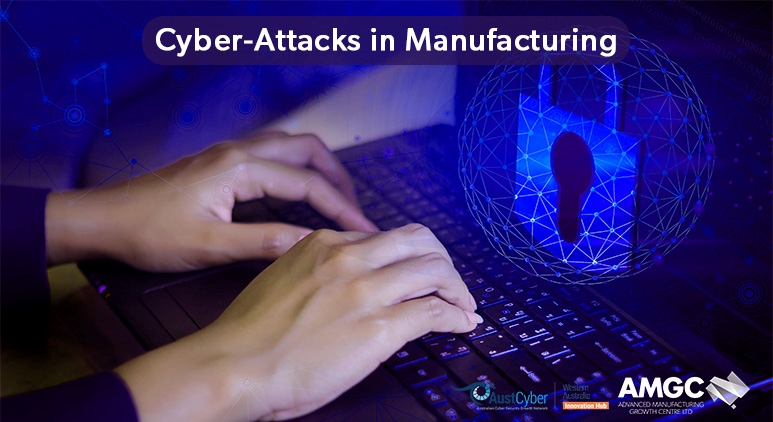 About this Webinar AMGC in conjunction with AustCyber, are proud to present the online webinar on Cyber-attacks in Manufacturing. Learn how to protect your business – no matter your size, all manufacturing companies need high levels of cybersecurity to protect them...