How to build an Automation or Robotics Strategy for your business - Welshpool
3 August 2021
AutoControl Systems, 266 Treasure Rd Nth, Welshpool, WA
Data Science Discovery Series: Manufacturing - Perth
20 July 2021
Telstra Customer Insight Centre Level 17, 125 Saint Georges Terrace, Perth, WA 6000
Modern Manufacturing: The New Opportunity
1 July 2021
Melbourne CBD
How to turn your practical experience into a profitable product - Adelaide
19 May 2021
Tonsley Innovation District, 6 MAB Eastern Promenade, Tonsley SA 5042
NextGen Manufacturing Seminar - Albury
14 April 2021
Mantra Albury Hotel, 524 Smollett St, Albury NSW 2640
Manufacturing Opportunities in Australia
18 March 2021
Polaris Centre, Innovation House 50 Mawson Lakes Blvd Mawson Lakes, SA 5095
Advancing Manufacturing Breakfast
10 March 2021
The Inchcolm, 73 Wickham Tce, Spring Hill, QLD 4000
Special 'Future Queensland' Event
25 March 2021
Customs House, 399 Queen St, Brisbane, QLD 4000
How to build an additive manufacturing strategy - Adelaide
17 March 2021
Room 5.29, 5th floor, main building, Tonsley Campus, South Road, Tonsley SA 5042
How to build an additive manufacturing (3D printing) strategy for your business - Eight Mile Plains
20 October 2020
The Glen Hotel, 24 Gaskell Street, Eight Mile Plains, Queensland, 4113
The Path to Advanced Manufacturing - Murray Bridge (postponed)
20 July 2021
Murray Bridge Town Hall, 13-17 Bridge Street, Murray Bridge 5253, SA
Manufacturing for a Circular Economy - Adelaide
3 December 2019
Rooms 1.01, 1.02,1.03, Flinders University, Tonsley Precinct, 1284 South Road, Clovelly Park SA, 5042


17 September 2021
Investing In Resilience: Manufacturing, Adapting to the New Normal
Australian Packaging and Processing Machinery Association (APPMA) is proud to present, Investing In Resilience: Manufacturing, Adapting to the New Normal
About this Event
APPMA is proud to present Manufacturing, Adapting to the New Normal
Keynote: A Global Perspective: Manufacturing as the New Engine of Growth
COVID-19 created the perfect storm, disrupting value chains in an unprecedented way, forcing companies to rethink their manufacturing and supply chain strategies. Now, a combination of threats – climate change, a volatile global economy, fragile geopolitical conditions – is pushing organisations to assume that crises are likely going to happen more often.
In order to navigate future disruptions and build resilience, companies need to accelerate the adoption of advanced manufacturing technologies as well as be able to continuously adapt.
By transforming operations through advanced manufacturing technologies, manufacturers can enable new business models that deliver value not only to themselves but also their teams, society and the environment. This concept of Stakeholder Capitalism will not only create a productivity revolution but will also drive economic growth.
In this session, Francisco Betti, Head of Advanced Manufacturing for the World Economic Forum, will discuss how regional economies and the manufacturing sector have an opportunity to boost competitiveness and growth by re-thinking their manufacturing strategies and repositioning themselves in the global landscape.
Panel Discussion: Manufacturing – Adapting to the new normal
What will the role of manufacturing be in the economic recovery and how does the renewed focus on re-shoring and supply chain security provide opportunities for industry growth?
Discussion points to be covered:
Convergence of risk management with sustainability goals
The role of packaging and processing in achieving sustainability targets including the 2025 National Packaging Targets
Workforce planning and skills retention
Digital transformation and automation to build efficiency
Compliance and standardization
Ensuring the voice of industry is heard at the policy level
To learn more and to register, please click here.
More Information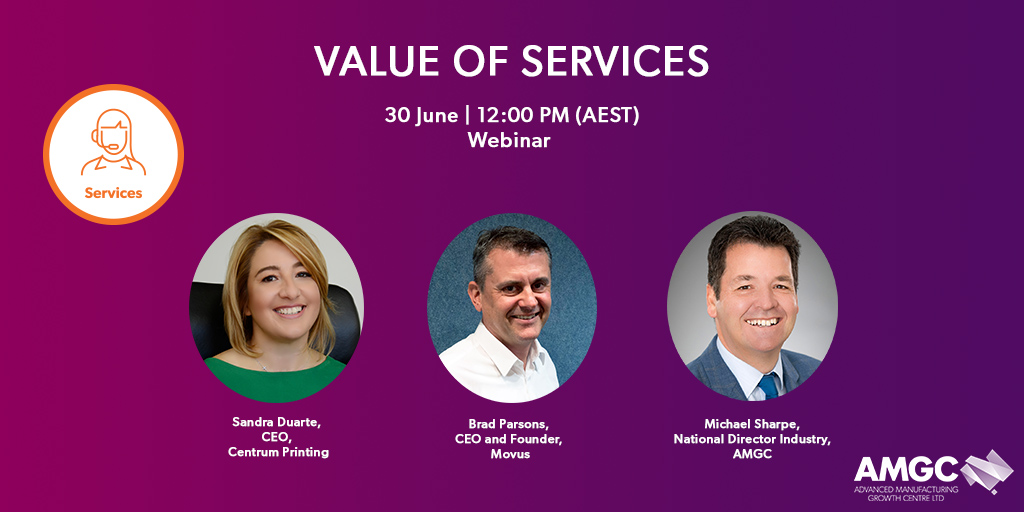 Panelists: Sandra Duarte, CEO, Centrum Printing Sandra is passionate, motivated and a strong believer in providing opportunities for young Australians to grow and expand their horizons by being educated, trained and being inspired to achieve. Sandra has thirty years'...