How to build an IIoT (Industrial Internet of Things) Strategy for Your Business - Kewdale
24 November 2020
R. Moore & Sons, 7 Noble St, Kewdale
How to build an additive manufacturing (3D printing) strategy - Adelaide (postponed)
18 November 2020
Technology Park Adelaide Conference Centre, Mawson Lakes Blvd, Mawson Lakes SA 5095
Launch of the new Campbelltown chapter of the Southern Strength agile manufacturing network
13 October 2020
Western Suburbs Leagues Club, 10 Old Leumeah Road, Leumeah
Understanding Government Relations: How to grow and protect your business profile, brand and relationships with government - Osborne Park
17 November 2020
Training Alliance Group (TAG) Osborne Park training facility, 9 Leeway Court, Osborne Park
How to build an additive manufacturing (3D printing) strategy for your business - Eight Mile Plains
20 October 2020
The Glen Hotel, 24 Gaskell Street, Eight Mile Plains, Queensland, 4113
The path to advanced manufacturing - Nowra
27 February 2020
Gallery room, Shoalhaven Entertainment Centre, 44 Bridge Road, Nowra, NSW 2541
How to build a resilient company - Wollongong
28 February 2020
BlueScope Visitor Centre – Northgate Entrance Springhill Road, Coniston NSW 2521
The path to advanced manufacturing - Mittagong
25 February 2020
Mittagong RSL Club, Cnr Hume Hwy &, Bessemer St, Mittagong NSW 2575
The path to advanced manufacturing - Toowoomba
21 February 2020
Eagle Room - City Golf Club - 254 South Street Toowoomba QLD
The path to advanced manufacturing - Sunshine Coast
17 February 2020
Lakeview Room, Venue 114, 114 Sportsmans Parade, Bokarina QLD 4575
The path to advanced manufacturing - Ipswich
18 February 2020
North Ipswich Reserve Corporate Centre, 43 The Terrace, North Ipswich, QLD 4305
The path to advanced manufacturing - Gold Coast
19 February 2020
The Grand Ballroom, Arundel Hills Country Club, 1 Arundel Place, Arundel, QLD 4214
How to build a resilient company - Portland
5 February 2020
Comfort Inn Richmond Henty - The Blue Room
The path to advanced manufacturing - Mount Gambier
3 February 2020
Room LCI-32a, University of SA, Wireless Rd W, Mount Gambier South Australia 5290
The path to advanced manufacturing - Port Pirie
4 December 2019
Memorial Oval Function Centre, Mary Elie Street, Port Pirie
Manufacturing for a Circular Economy - Adelaide
3 December 2019
Rooms 1.01, 1.02,1.03, Flinders University, Tonsley Precinct, 1284 South Road, Clovelly Park SA, 5042
The path to advanced manufacturing - Port Lincoln
2 December 2019
Boston Room, Hilton Motel, 13 King Street, Port Lincoln, South Australia 5606


19 February 2021
Modern Manufacturing: What is South Australian's Competitive Advantage?
To kick off 2021, AmCham in partnership with AMGC is bringing a panel of business leaders to discuss how transforming Australian manufacturing will rebuild our economy.
About this Event
Manufacturing is key to almost every supply chain and adds value across all sectors. Manufacturing is a capability that extends beyond production, by strategically investing and harnessing our world-class science and technology, Australia can open new markets and take more of our quality products to the world. Enabling digital technologies, such as artificial intelligence, block chain and cyber security will also play a pivotal role in unlocking our potential and enable our local manufacturers to create entirely new products, processes, and business models.
Hear from the following speakers:
Hon David Pisoni MP, Minister for Innovation and Skills, Government of South Australia
Ian Wisenberg, Chief Business Officer, Bridgewest Australia Biotech
Dr Jacqui McRae, Manager, ARC Graphene Research Hub, The University of Adelaide
Christian Reynolds, Group Managing Director, Precision Buses
Professor John Spoehr, Pro-Vice Chancellor – Research Impact, Flinders University
Michael Sharpe, National Director Industry, AMGC
Cost: AmCham Members $169.00, Non-AmCham members $209.00, Table of 10 AmCham Members $1,690.00 & Table of 10 Non-AmCham Members $2,090.00
More Information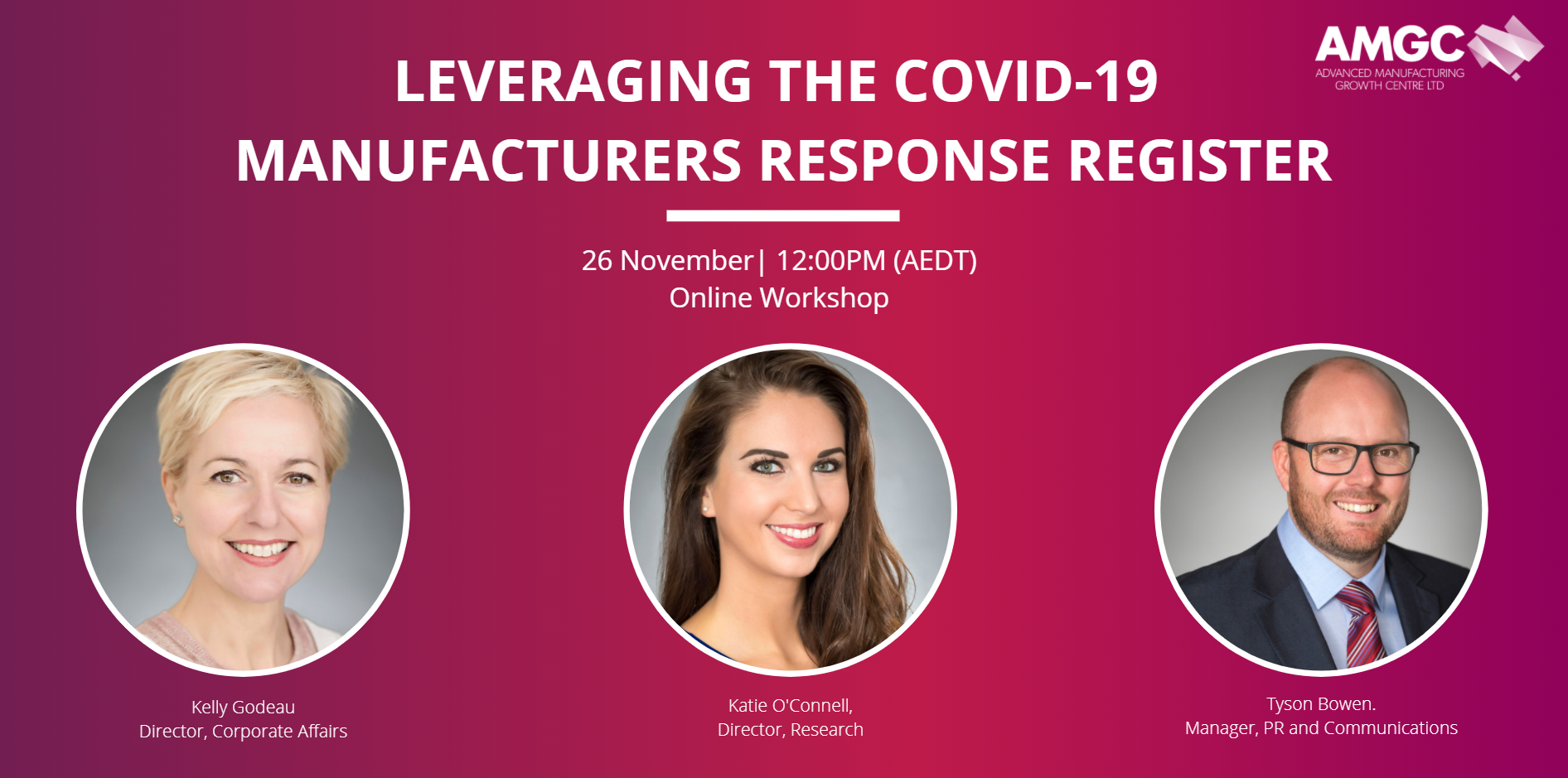 About this Webinar More than just a place to buy and sell critical medical and personal protective equipment, the Register is a place to find like-minded manufacturers and suppliers to forge connections and business collaborations.   This webinar will feature...