Innovation in manufacturing research and the future of the Australian manufacturing landscape
9 June 2021
OrganiserFaculty Of Engineering, The University Of Sydney
How to turn your practical experience into a profitable product - Adelaide
19 May 2021
Tonsley Innovation District, 6 MAB Eastern Promenade, Tonsley SA 5042
NextGen Manufacturing Seminar - Albury
14 April 2021
Mantra Albury Hotel, 524 Smollett St, Albury NSW 2640
Manufacturing Opportunities in Australia
18 March 2021
Polaris Centre, Innovation House 50 Mawson Lakes Blvd Mawson Lakes, SA 5095
Advancing Manufacturing Breakfast
10 March 2021
The Inchcolm, 73 Wickham Tce, Spring Hill, QLD 4000
Special 'Future Queensland' Event
25 March 2021
Customs House, 399 Queen St, Brisbane, QLD 4000
How to build an additive manufacturing strategy - Adelaide
17 March 2021
Room 5.29, 5th floor, main building, Tonsley Campus, South Road, Tonsley SA 5042
How to build an additive manufacturing (3D printing) strategy for your business - Eight Mile Plains
20 October 2020
The Glen Hotel, 24 Gaskell Street, Eight Mile Plains, Queensland, 4113
How to build a resilient company - Wollongong
28 February 2020
BlueScope Visitor Centre – Northgate Entrance Springhill Road, Coniston NSW 2521
Manufacturing for a Circular Economy - Adelaide
3 December 2019
Rooms 1.01, 1.02,1.03, Flinders University, Tonsley Precinct, 1284 South Road, Clovelly Park SA, 5042


7 April 2021 – 30 June 2021
7 steps across the manufacturing value chain series
Join us as we breakdown the 7 steps across the manufacturing value chain.
Join us every second Wednesday at 12 noon AEST
7 April 2021 – 30 June 2021
More Information
10 - 11 June 2021
SBAA International Small Business Summit 2021
The Small Business Association of Australia (SBAA) is proud to host its Bi Annual International Small Business Summit this year on Thursday, 10 and Friday, 11 June, 2021.
About this Event
There are periods throughout history when the world experiences an event so powerful that things do not remain the same. It becomes a time for big, bold, new ideas. Such a time arrived with the coronavirus. The status quo cannot remain the same and it is now time for change. As a global economy, Australia and other nations can enter the Golden Age. History shows it is small business that lead a nation out of an economic downturn. Rebuilding shattered economies is not from the top down but rather from the bottom up.
The Summit is a two-day high-level event that will be attended by policy makers, academics, governments, international representatives, small and large businesses, and business organisations.
At our 2021 Summit, there will be international participants from the academic and business world and government advisers where talks will centre on some of the ten pillars of the Charter, small business practices, new ideas, and how small business & the economy will benefit.
The purpose of the Summit is to lay the foundations for good policies including new ideas, best business practices and ease of doing business for small businesses particularly doing trade with global economies.
Day 1 – Topics include finance, industrial relations, education & training, taxation and manufacturing.  Presenters will include different viewpoints from academia, government and business.
Day 2 – International Trade for small business and Women in Business.
To learn more and to register, please click here.
Location: Sea World Resort Conference Centre, Seaworld Dr, Main Beach QLD 4217
Cost: To find out more information about deleate's passes please call 1300 413 915 or email [email protected] 
More Information
1 July 2021
Modern Manufacturing: The New Opportunity
AmCham brings a panel of business leaders to discuss how transforming Australian manufacturing will rebuild our economy.
About this Event
Manufacturing is critical to a modern Australian economy. AmCham brings a panel of business leaders to discuss how transforming Australian manufacturing will rebuild our economy.
Manufacturing is key to almost every supply chain and adds value across all sectors. Manufacturing is a capability that extends beyond production – by strategically investing and harnessing our world-class science and technology, Australia can open new markets and take more of our quality products to the world. Enabling digital technologies will also play a pivotal role in unlocking our potential and enable our local manufacturers to create entirely new products, processes, and business models.
Professor Bronwyn Fox, Deputy Vice-Chancellor (Research and Enterprise), Swinburne University of Technology will moderate the conversation between the following panel of experts:
Jeanne Johns, Managing Director and CEO, Incitec Pivot
Richard Macchiesi, General Manager | Innovation & Corporate Affairs, Visy
Dr Jens Goennemann, Managing Director, Advanced Manufacturing Growth Centre (AMGC)
The panel will discuss:
Supply chain dynamics, opportunities and risks
The changing role of technology in the manufacturing process
Australian and international collaboration in various manufacturing initiatives
How manufacturers translate good ideas into commercial outcomes
Opportunities and challenges for the industry including private and public investment in Australian manufacturing 
To learn more and to register, please click here.
Cost: AmCham members $169, Non-members $219, Table of 10 AmCham members $1,690, Table of 10 Non-members $2,190
More Information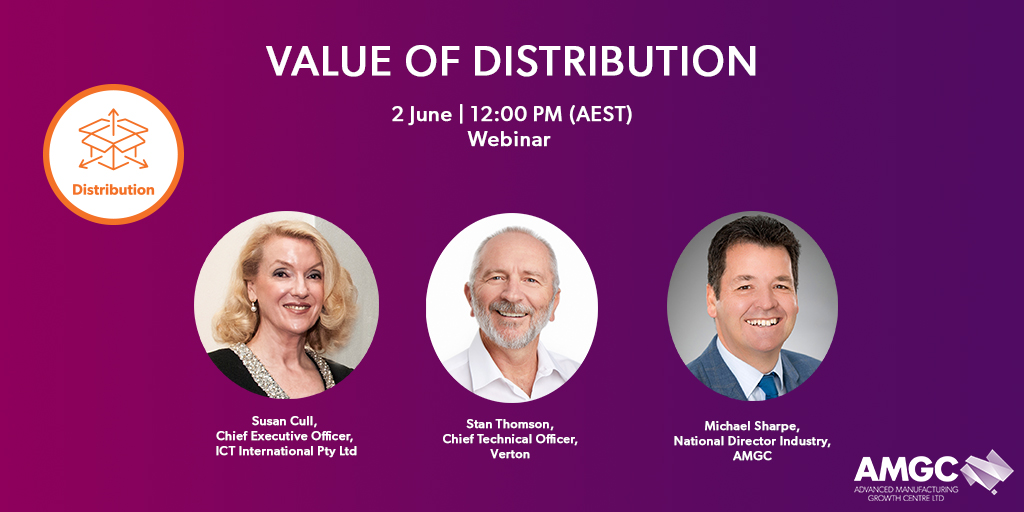 Panelists: Susan Cull, Chief Executive Officer, ICT International Pty Ltd Susan Cull has thirty-six years' experience in development and management of ICT International, a role she has shared with her husband Dr Peter Cull. Combined they have developed ICT...