Partnership Opportunities In Victoria Through Collaboration
18 August 2022
Consulate General of India, Melbourne - 344 St Kilda Rd, Melbourne VIC 3004
Building a pipeline of Mechanical Engineers
23 August 2022
Sydney Engineers Australia Office - 44 Market Street, Mezzanine Level, Sydney, New South Wales Australia
PacRim Stainless 2022
20 - 21 July 2022
Hotel X Brisbane - 458 Brunswick St, Fortitude Valley QLD 4006
Trends in Additive Manufacturing for Manufacturers - Joondalup
5 July 2022
Building 27, Edith Cowan University, 270 Joondalup Dr, Joondalup WA 6027
Meet the Territory 2022 – Darwin
14 - 15 September 2022
The Atrium on The Avenue - 12 Salonika St, Parap NT 0820
Central Coast Industry Festival
22 August - 3 September 2022
Mingara Recreation Club - 12-14 Mingara Dr, Tumbi Umbi NSW 2261
The Path to Advanced Manufacturing - Murray Bridge
6 May 2022
Bridgeport Hotel, Charles Sturt room - 2 Bridge St, Murray Bridge SA 5253
Territory Women in Manufacturing - Darwin
30 March 2022
The Oche Suite at the North Australian Development Office (NADO) - 76 Esplanade, Darwin City NT 0800


19 October 2022
​Cicada's Open House is an opportunity to tour its world-class facilities, meet the dedicated team of experts, and connect with our community of deep tech innovators
About this Event
Cicada Innovations is the home of deep tech in Australia with a 22 year track record supporting deep tech ventures including; Canceraid, Invertigro, Morse Micro, Propeller, Regrow, SpeeDx.
Cicada Innovation has an award-winning specialist deep tech incubator and is dedicated to the unique needs of deep tech ventures. Cicada Innovations offers affordable and flexible office and lab space, specialised facilities, tailored support, and a community of brilliant minds to help you grow. Cicada specialist incubator is award-winning and dedicated to the unique needs of deep tech ventures.
Cicada Innovations are throwing open its doors to Australia's most ambitious deep tech startups who want to find out what Cicada has to offer. ​Cicada's Open House will be followed by networking drinks, where you will have the chance to meet our startup residents and connect with Cicada's deep tech community.
To learn more and register, please click here!
More Information
20 October 2022
Growing Manufacturing in the Territory
Join AMGC at October Business Month 2022 for – Growing Manufacturing in the Territory
About this Event
Join the Advanced Manufacturing Growth Centre (AMGC) to hear more about the state of manufacturing today, where it is heading and how this is going to impact the manufacturing eco-system here in the Northern Territory.
Hear about how digital technology is transforming manufacturing and the steps that manufacturers across the country have taken to transition from traditional manufacturers to advanced manufacturers.
Joining AMGC will be Arabana Builders who are adopting advanced technologies in the construction sector.
Arabana Builders is a Darwin-based, Aboriginal-owned family company that offers quality construction and related services to industries across Northern Territory. Holovision is a trusted provider of spatial data services across multiple industry sectors across Australia, their fresh approach, innovative solutions, and tailored services provide the best outcomes for clients.
This indigenous company utilise digital technology, in partnership with Holovision, to reduce the risk of delays, inaccuracy and additional costs traditional construction companies often encounter.
To learn more and register, please click here!
More Information
1 - 31 October 2022
October Business Month 2022 – Northern Territory
October Business Month is the Territory's premier business event delivered by the Department of Industry, Tourism and Trade. The month-long program provides inspirational and educational events designed to support, inspire and grow Territory business
About this Event
October Business Month (OBM) will deliver an exciting and inspiring program featuring high profile keynote speakers, covering leadership, resilience and overcoming adversity, right across the Territory.
Events will be held across the regions throughout the month of October with a focus on motivating business owners and employees to encourage networking, facilitate professional development and provide business improvement strategies to support business growth.
This year also sees the return of OBM Partner Events, independently hosted events delivered by Territory business and industry as part of the broader program. OBM Partner Events give local businesses and industry the opportunity to showcase their skills, knowledge and experience to support and motivate business owners and employees to enhance and build their business capability while strengthening relationships with the Territory business community.
The calendar features more than 120 events covering a range of topics and OBM key themes.
AMGC will be present at OBM at the following events:
20 October: Growing Manufacturing in the Territory, event hosted by AMGC Northern Territory Director, Charmaine Phillips
21 October: TQ Long Lunch, panel discussion with AMGC Managing Director Jens Goennemann
To learn more and register, please click here!
More Information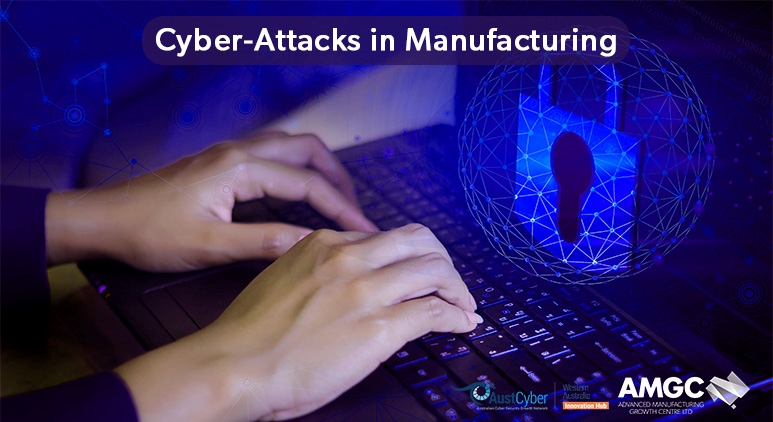 About this Webinar AMGC in conjunction with AustCyber, are proud to present the online webinar on Cyber-attacks in Manufacturing. Learn how to protect your business – no matter your size, all manufacturing companies need high levels of cybersecurity to protect them...