Launch of the new Campbelltown chapter of the Southern Strength agile manufacturing network
13 October 2020
Western Suburbs Leagues Club, 10 Old Leumeah Road, Leumeah
How to build an additive manufacturing (3D printing) strategy for your business - Eight Mile Plains
20 October 2020
The Glen Hotel, 24 Gaskell Street, Eight Mile Plains, Queensland, 4113
How to build an additive manufacturing (3D printing) strategy for your business - Eight Mile Plains
20 October 2020
The Glen Hotel, 24 Gaskell Street, Eight Mile Plains, Queensland, 4113
The path to advanced manufacturing - Nowra
27 February 2020
Gallery room, Shoalhaven Entertainment Centre, 44 Bridge Road, Nowra, NSW 2541
How to build a resilient company - Wollongong
28 February 2020
BlueScope Visitor Centre – Northgate Entrance Springhill Road, Coniston NSW 2521
The path to advanced manufacturing - Mittagong
25 February 2020
Mittagong RSL Club, Cnr Hume Hwy &, Bessemer St, Mittagong NSW 2575
The path to advanced manufacturing - Toowoomba
21 February 2020
Eagle Room - City Golf Club - 254 South Street Toowoomba QLD
The path to advanced manufacturing - Sunshine Coast
17 February 2020
Lakeview Room, Venue 114, 114 Sportsmans Parade, Bokarina QLD 4575
The path to advanced manufacturing - Ipswich
18 February 2020
North Ipswich Reserve Corporate Centre, 43 The Terrace, North Ipswich, QLD 4305
The path to advanced manufacturing - Gold Coast
19 February 2020
The Grand Ballroom, Arundel Hills Country Club, 1 Arundel Place, Arundel, QLD 4214
The path to advanced manufacturing - Warrnambool
7 February 2020
Room J2.20, Deakin University, Warrnambool Campus
How to build a resilient company - Portland
5 February 2020
Comfort Inn Richmond Henty - The Blue Room
The path to advanced manufacturing - Mount Gambier
3 February 2020
Room LCI-32a, University of SA, Wireless Rd W, Mount Gambier South Australia 5290
The path to advanced manufacturing - Port Pirie
4 December 2019
Memorial Oval Function Centre, Mary Elie Street, Port Pirie
Manufacturing for a Circular Economy - Adelaide
3 December 2019
Rooms 1.01, 1.02,1.03, Flinders University, Tonsley Precinct, 1284 South Road, Clovelly Park SA, 5042
The path to advanced manufacturing - Port Lincoln
2 December 2019
Boston Room, Hilton Motel, 13 King Street, Port Lincoln, South Australia 5606
September Conference
7 August 2019
11 Chandos Street, St Leonards NSW 2065


28 October 2020
NextGenManufacturing Webinar Series – Succession Planning and Superannuation
RSM Australia in partnership with AMGC is proud to present this innovative webinar series to help your manufacturing business adapt and thrive in challenging times
About this Event
RSM Australia in partnership with AMGC is proud to present this innovative webinar series to help your manufacturing business adapt and thrive in challenging times.
This event will empower Australian manufacturing companies with the knowledge they need to look at the future with confidence and strive towards achieving sustainable competitive advantage. The highly experienced panellists will provide you with guidance on succession planning and superannuation.
The panel will include:
Katie Timms, Superannuation & SMSF Services
 Andrew Sykes, RSM Australia
Peter Revelas, RSM Australia
Michael Sharpe, AMGC
This event is free and open to all, click here to register!
Time: 3:00pm – 4:00pm (AEDT)
More Information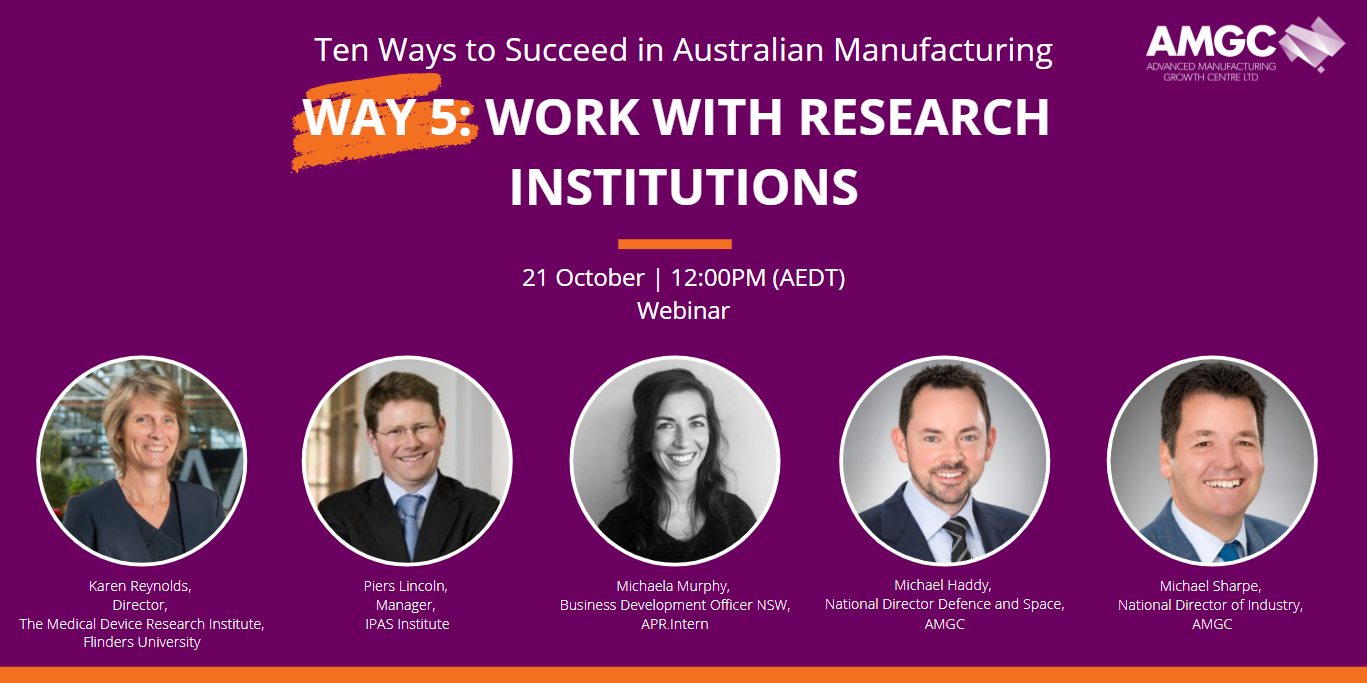 Collaboration with researchers is a hallmark of Australia's most advanced manufacturing companies. New tools, new awareness of the benefits, and new recognition of the need to remove institutional barriers are making it easier for future collaborations. Join us for a...