Carbon Fibre Reinforced Geopolymer Concrete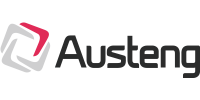 Project description and overview:
The objective of this project is to identify whether a Pedestrian Footbridge can be manufactured effectively and commercially out of Carbon Fibre reinforced Geopolymer Concrete.
This project aims to accelerate modelling, construction and testing of a Carbon fibre reinforced pedestrian bridge for the City of Greater Geelong. The City of Greater Geelong has published a procurement for innovation tender, which if Austeng were successful would provide an opportunity to demonstrate the product in three pedestrian bridges. A decision regarding this tender is pending.
There is substantial market potential because it would avoid, particularly in certain climatic conditions, the effects of 'Concrete Cancer' and loss of strength in concrete structures leading to potential failure. This elimination will be achieved through a new and disruptive method of manufacturing which will replace the steel in traditional reinforced concrete building processes with Carbon, giving 100+ years of maintenance free life.
Demonstration of this technology will validate an innovative alternative to steel reinforced concrete, i.e., Carbon fibre reinforced geopolymer concrete for the entire building and construction industry.

EXPECTED IMPACT
Increased spending on R&D to validate complex new product for the construction industry
Advanced knowledge achieved through collaboration with Carbon Nexus and members of the Advanced Fibre Cluster Geelong
Better energy efficiency and performance than cement

EXPECTED GROWTH
$20 million plus export revenue in early earnings forecast
Carbon fibre will be domestically manufactured
There is a patent pending on the solution

EXPECTED JOBS
10 jobs (medium term) as a result of commercialisation
Contributions:
Government Funds: $50,000 | Industry: $85,000 | In-Kind $35,000