Digitisation for Manufacturing SMEs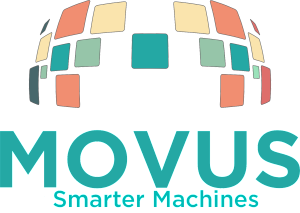 Project description and overview:
MOVUS FitMachine® provides 24/7 monitoring of the key equipment parameters i.e.: vibration, acoustics and temperature and sends early alerts on equipment malfunction, thus it significantly reduces costs by minimising unplanned downtime, and by reducing the need for manual routine machine inspections.
By installing MOVUS FitMachine sensors on business-critical and less reliable equipment, project participants can immediately experience the benefits of Condition-Based Maintenance (CBM), an advanced maintenance regime that until now was unaffordable to SMEs.
The FitMachine industrial sensor is magnetically attached to electrically powered equipment, making installation simple, with no need for tools or specialised knowledge.
FitMachine collects data on equipment temperature, vibration and acoustics, transmitting it to their secure cloud server. The cloud processes the data and provides equipment condition information 24/7 via the MOVUS Dashboard (accessible via web browser on all devices).
MOVUS and the project participants will provide 50 Australian manufacturing SME's with 50% discount on the subscription of the FitMachine 'Starter Kit' for the duration of 12 months. The 'Starter Kit' is comprised of 10 sensors, and an associated WiFi / 4G gateway, as well as a self-installation smartphone / tablet application and to the MOVUS Platform and Dashboard.
Business owners and plant & production managers get real-time visibility of their equipment – knowing when they are on, understanding their utilisation, watching their condition and degradation closely – and receive early alerts of equipment malfunction. This allows them to repair the equipment earlier and to plan downtime if needed.
Maintenance staff can focus the attention on proactive tasks rather than reacting to failures or following OEM preventive maintenance schedules.
During this program, MOVUS will work with Australian SMEs to develop a number of case studies that AMGC and MOVUS can promote around the use of IIoT to SMEs in these industries. At the end of the project, MOVUS will provide an extensive documentation on the reported benefits of this technology and the impact on SMEs.

EXPECTED IMPACT
Project participants can immediately experience the benefits of CBM by getting equipment visibility and utilisation 24/7
Participants usually realise return on investment in the first six months
Start Industry 4.0 Journey through the use of the MOVUS sensors
More collaboration with other manufacturers


EXPECTED JOBS
6 full time staff members
Contributions:
Government Funds: $250,000 | Industry: $500,000 | In-Kind: $62,300