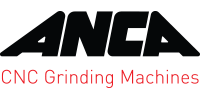 Project description and overview:
ANCA Machine Tools, in collaboration with ANCA Motion, Swinburne University of Technology, Sutton Tools, Harmonic Drive and Total Precision Pty Ltd, seeks to commercialise a locally developed, advanced-prototype robotic and digital control system suitable for immersive use within CNC grinding and milling environments. The project aims to replace limited-functionality pneumatic solutions that are currently paired with many CNC deployments, thereby delivering full automation of common production processes to achieve unmanned 24/7 CNC operating capabilities.
The prototype robotic system has been developed to integrate with ANCA CNC machines and should have broad market appeal. Fully automated loading and unloading of small parts in CNC machines is a requirement for more than 50% of ANCA's customer base – a market currently served by predominantly inflexible pneumatic pick and place subsystems. The robotic solution provides a flexible, Industry 4.0-aligned alternative. Real-time production data will be available for use within ERP systems, and the programmable robot's flexibility will help optimise production and enable rapid reconfiguration between manufacturing tasks.
Existing robotic CNC solutions generally require custom integration of multiple hardware elements from different vendors. Fully integrated robotic CNC solutions offer potential operational efficiencies and cost advantages. Support and maintenance for all hardware and software elements can be provided by a single vendor, and tight integration of hardware elements offers greater versatility and opportunities for faster production cycles.
The robot will build capability domestically, allowing ANCA and its subsidiary companies to provide sophisticated advanced integration solutions in automation for Australian manufacturers.

EXPECTED IMPACT
Sustained competitive advantage achieved by developing a specialised production robot for ANCA CNC machines
Increased collaboration with industry partners to test and optimise the development of innovative products and services
Advanced processes achieved through flexibly programming the robot's operations to optimise production and enable rapid reconfiguration between manufacturing tasks
Increased ICT intensity by integrating real-time production data with legacy ERP systems
Greater number of staff members with STEM skills

EXPECTED GROWTH
The robotic solution can be used by other industries within Australia and around the world
ANCA will manufacture the first generation of the product in Australia. Once ANCA reaches high-volume production, the first-generation product will be manufactured in ANCA's Taiwan facility while ANCA Australia develops the second generation

EXPECTED JOBS
More than 100 Swinburne University engineering students placed at ANCA through the industry-based learning program, many of whom have gone on to full-time employment with ANCA
Contributions:
Government Funds: $325,000 | Industry: $325,000 | In-Kind: $145,836