Thank you to the thousands of manufacturers who joined us over 10 weeks to learn how to succeed in Australian manufacturing.
Click on each tab below to access the top tips from the presenters in their respective 'Way'. 
Way 1. Recognise Australian Manufacturing's Strength
Manufacturers are typically proud of their business yet feel that the general public and students do not value manufacturing as highly as they should. Our research shows Australians do recognise the economic importance of manufacturing and are optimistic about its future.
How to change the perception:
Educate yourself and others
Be conscious of language
Work with local schools and TAFEs
Let the media know when it is misinformed
---
Way 2. Focus on leadership
Good leadership is needed to ensure changes stick and it underpins all the ways towards advanced manufacturing outlined in the 10 Ways to Succeed. Leadership is needed whether you are the business owner, CEO, or a manager within a larger organisation.
How to be a leader who encourages innovation:
Keep learning
Remind yourself of your ability to make change
Craft a sense of 'us'
Lead by example
Set reminders to follow through
Engage in collaboration
---
Way 3. Plan for change
Proactive planning can help manufacturing business grow and take advantage of opportunities, rather than be reactive. It can be hard to know where to start and how to find the time to work 'on' the business, not 'in' the business.
How to plan:
Block out time and commit to planning
Use online resources
Access expert advice
Apply for a Business Growth Grant
Prioritise planning by including planning steps when developing KPIs
Consider your entire value chain
Partner with AMGC
Recommendations from the webinar:
---
Way 4. Network and Collaborate
Did you know collaboration can make firms more profitable and innovative by sharing ideas, discovering opportunities, and spreading risk? You can reap these benefits by mining personal networks, seeking out established networking programs and putting aside zero-sun thinking.
How to build networks and expand:
Harness the power of networks
Build new networks by reaching out to other manufacturers
Avoid zero-sum thinking
Register with supply chain portals
Visit trade exhibitions
Meet with larger suppliers
Join industry network groups
Have and maintain a quality website
---
Way 5. Work with research institutions
Collaboration with researchers is a hallmark of Australia's most advanced manufacturing companies. New tools, new awareness of the benefits, and new recognition of the need to remove institutional barriers are making it easier for future collaborations.
How to collaborate with research institutions:
Use a variety of search strategies when looking for opportunities
Develop networks and relationships
Come with a plan
Understand each other's priorities
Share the risks involved in advancement
Recommendations from the webinar: 
---
Way 6. Adopt technology
New technologies can deliver significant productivity gains and make companies more responsive to customers and competitive changes. Many manufacturers are being held back by lack of information and a sense they need to make 'all-or-nothing' changes.
How to adopt new technology:
Align technology with business strategy
Take small steps
Keep things simple
Partner with universities to create prototypes
Build relationships with global integrators and primes
Loan or share equipment
Recommendations from the webinar:
---
Way 7. Access capital
Access to capital is a perennial problem for smaller business, and particularly for manufacturers looking to invest in advanced technology. Preparing loan applications, financial modelling and navigating grant processes require different skills than those used for the day-to-day running of a manufacturing business.
How to access capital and government grants:
Fix you business accounts
Prepare or update your business plan
Access your credit worthiness
Find the right funding for your business
Seek advice
Use online resources to help decide which grant is appropriate
Keep records up to date
Be patient
Recommendations from the webinar:
---
Way 8. Hire the right people
Hiring the right people can be difficult, but it is crucial for long-term success. Australia has a talent pool, as well as international hires, who could be a good fit for roles across the value chain. Reaching talented people can require thought about how and where a company should advertise.
How to attract talent:
Identify strengths to emphasise in job adverts
Maintain a high-quality careers website page and use social media
Ensure good coverage on online jobs boards
Work with other manufacturers
Offer internships and work experience
Recommendations from the webinar:
---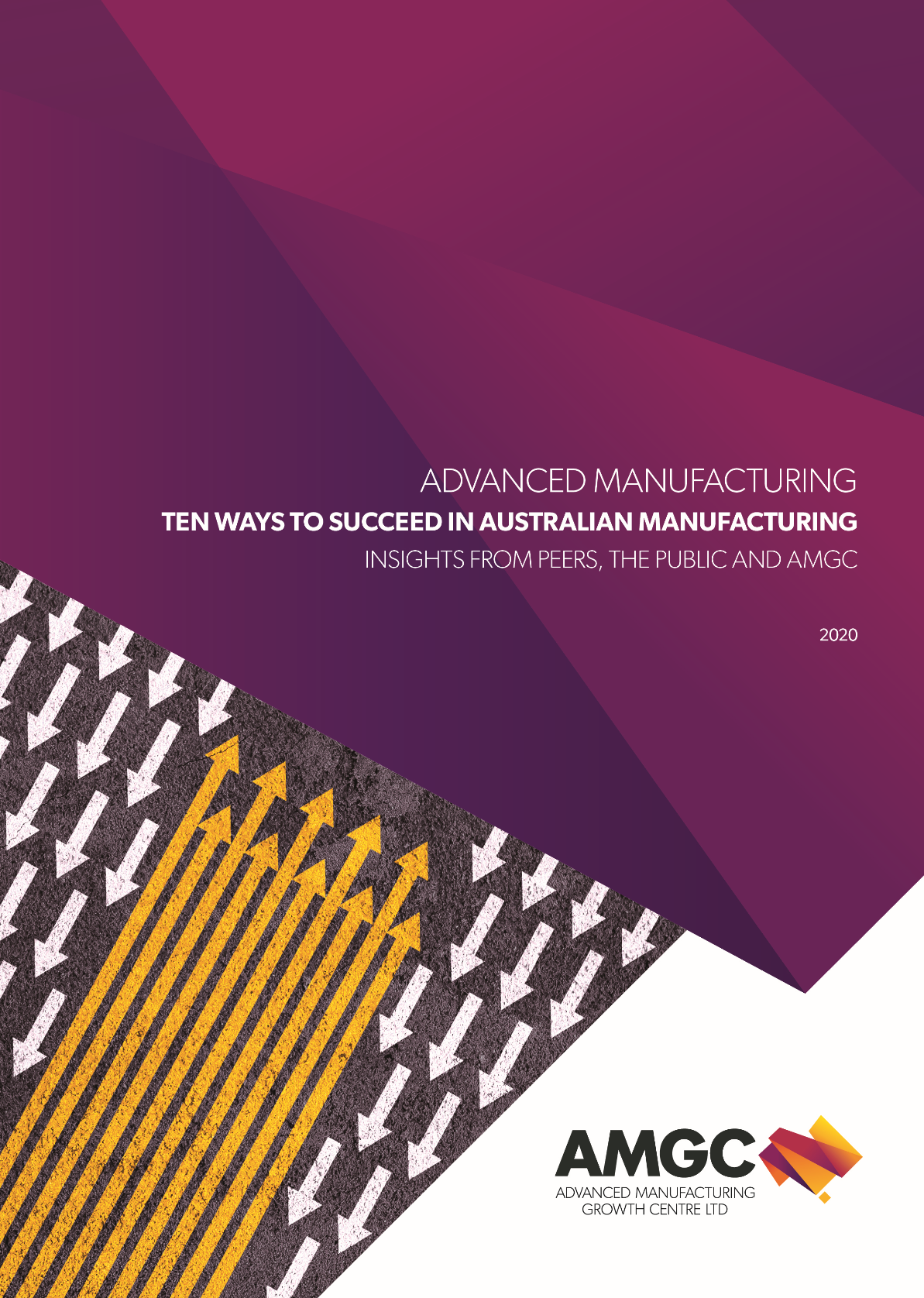 Download Report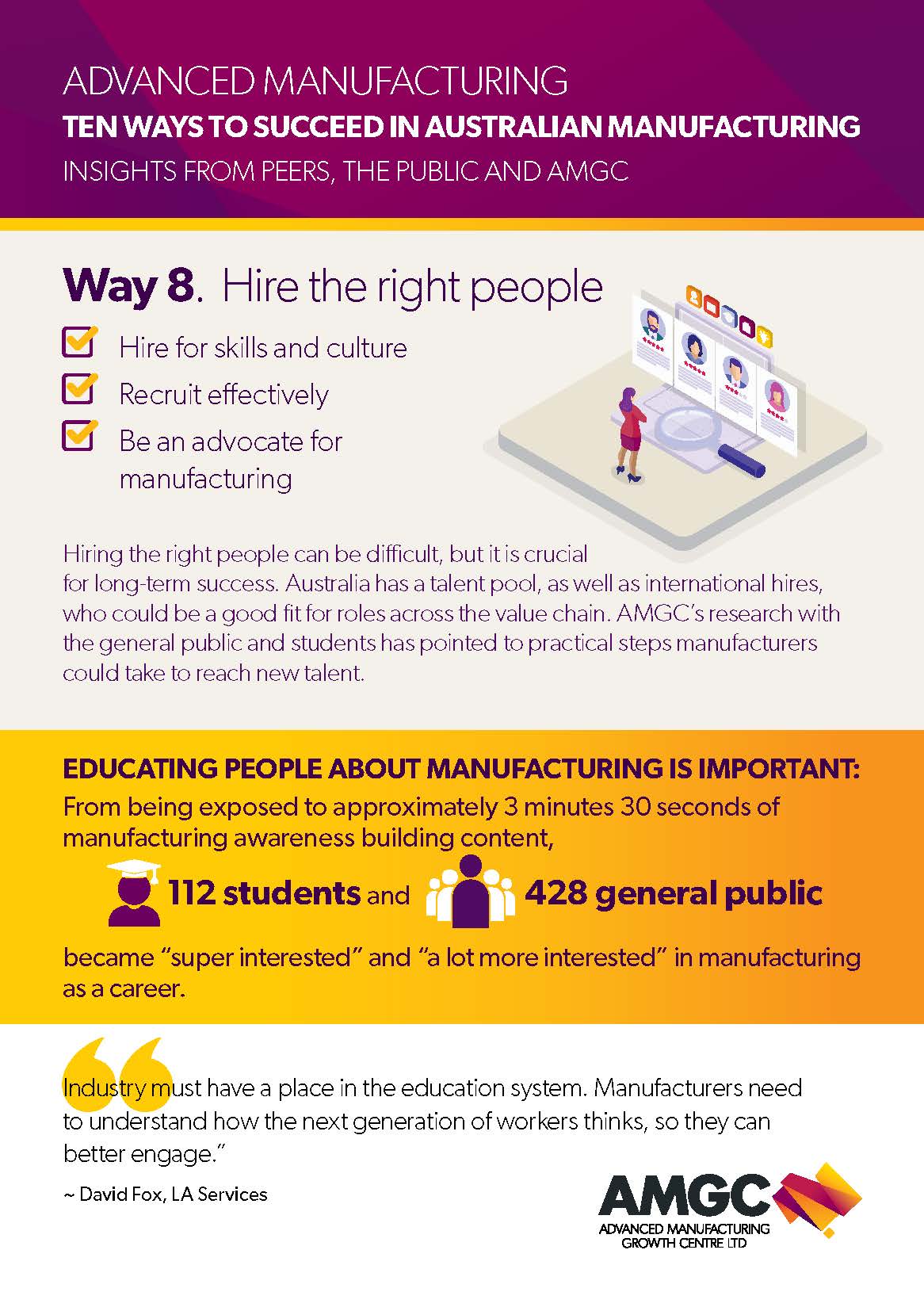 Download Way 8 overview
Way 9. Build your workforce and culture
Many skills gaps can be filled by developing the abilities of existing employees. Company culture has a big effect on employee retention and many successful manufacturers make it a priority.
How to create an innovative environment and encourage collaboration:
Be transparent and consistent
Consider how staff fit in culturally
Empowering staff to speak up
Responding productively to risk-taking
Providing continued learning opportunities
Increasing diversity
Make regular communication the norm
Hold participatory meetings
Bringing diverse teams together
Avoid silos
Changing the physical environment to encourage collaboration
Recommendations from the webinar:
5 questions of empowerment by Jack Daly

Is it right for the customer?
Is it right for our company?
Is it ethical?
Is it something for which you are willing to be accountable?
Is it consistent with our company's basic beliefs?
If the answer is "yes" to all five questions, don't ask, just do it.
---
Way 10. Extend your market reach
Companies that export can transform their growth trajectory and profitability. Export opportunities are often 'out of sight, out of mind', and easily missed. 
How to strategise to expand and export products:
Take it step by step and incorporate market reach into business-as-usual planning
Link into global supply chains
Recognising and maximising opportunities for 'chance events'
Using technology to facilitate strategic expansion and exports
Identifying and reaching untapped markets and segments
Financial guidance and finance for export
Recommendations from the webinar: 
---